DO DOGS NEED TO WEAR COATS?
Do you live in a cold climate and wonder if your dog should wear a coat when outdoors? How about booties? Ear muffs? The correct answer depends a lot on how cold it is, what type of dog you have, and, to a lesser degree, your dog's personality.
WHAT TYPE OF NATURAL COAT DOES YOUR DOG HAVE?
Different dog breeds have different types of natural coats. At what temperature your dog will start to feel the cold depends a lot on what type of coat he has.
SMOOTH COAT
This category includes miniature pinschers, dachshunds, and chihuahuas. Dogs with this fur type will feel the cold sooner than those with other types of coats. An external coat or sweater is advisable for these guys whenever the temperature drops below 50 degrees Fahrenheit.
DOUBLE COAT
Some of the dog breeds which have a double coat are German Shepherds, Huskies, Great Pyrenees, and Shiba Inu. These dogs are usually the hardiest in the cold – Huskies, for example, can tolerate extreme low temperatures. That having been said, I am opposed to keeping any companion animal as outdoors only. Please, at a minimum, bring these guys in at night, and in inclement weather. Companion animals are meant to be part of a family, and should be treated as such.
WIRE-HAIRED COAT
Mostly a terrier trait, these dogs include the Jack Russell, the Kerry Blue, and the West Highland Terrier. More tolerant of cold than the smooth coats, these dogs should be protected in temperatures less than 30⁰ F.
LONG COAT
Shih-Tzus, Yorkshire Terriers, and Maltese are included in this group. Protect these guys when it's colder than 45⁰ F.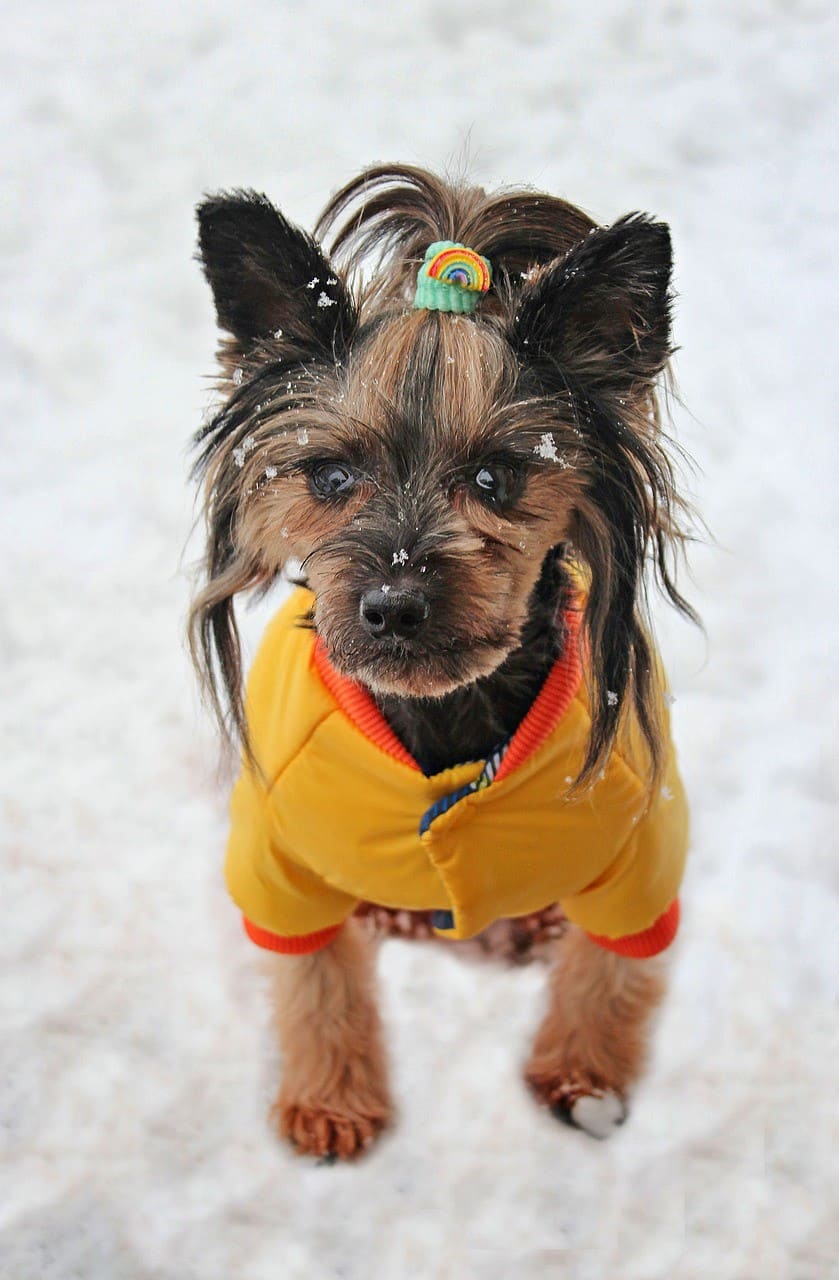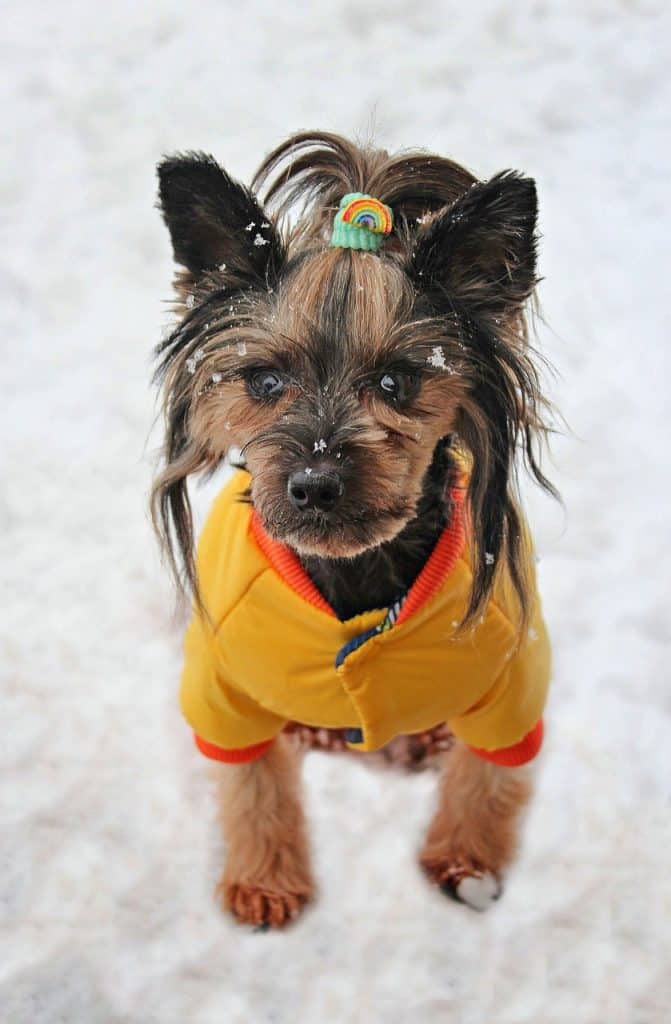 CURLY COAT
Poodles and Bichons are some of the breed which have curly coats. Except for brief potty walks, a coat or sweater is advisable if the temperature falls below 35⁰.
HAIRLESS
There aren't many truly hairless dogs. The Xoloitzcuintli (Mexican Hairless), and the Chinese Crested are among this group. Like the chihuahua, the Chinese Crested needs protection in all but the warmest weather. The Xolo, however, can withstand temperatures down to 45⁰ without a problem.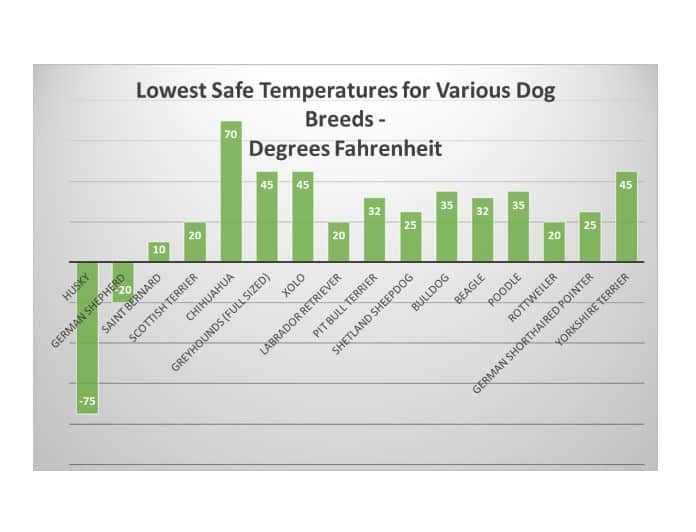 TYPES OF EXTERNAL COATS FOR DOGS AND THEIR USES
There are many different types of dog coats available for purchase. If you're crafty, there are also tons of patterns available on the Internet. Below are some of the main types and their applications:
RAINCOAT
Used for precipitation. Generally, doesn't have a lot of insulating properties. This type of coat is best used when it is above 40 degrees and raining. This will keep your pup dry, therefore preventing a chill, but will not necessarily keep them warm.
WINDBREAKER
Best for long walks or hikes in windy conditions. Cuts the worst of the cold, but these are usually not insulated.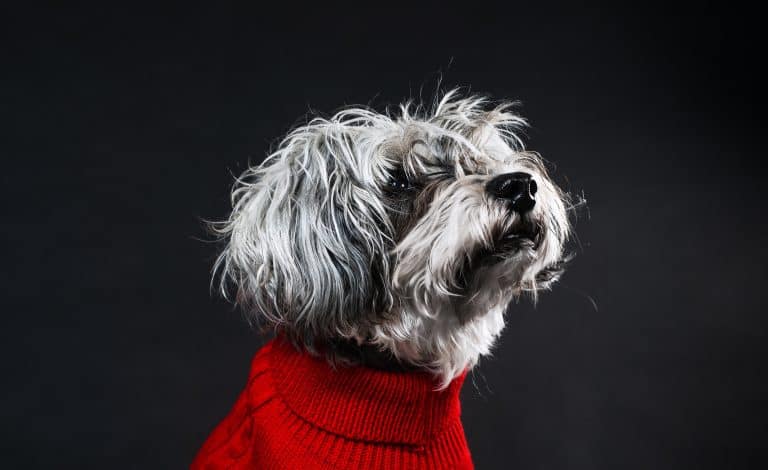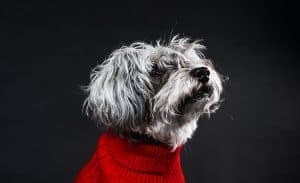 FLEECE
Great for dry, cold conditions. Not recommended for days with precipitation as fleece can soak through and become heavy. Wet fleece will make your pet colder, not warmer.
PARKA
Best for the coldest days, or prolonged exposure. If you and your pet are planning on taking long walks in the frigid cold, a parka is best suited.
SNOWSUIT
Water resistant, the name reflects its use. Best for days when it is actively snowing, or when the ground is snow covered. If your dog is a snow-lover, and enjoys running in and rolling in the snow, this type of garment is your best bet.
REFLECTIVE COAT
This one has less to do with warmth, and more to do with visibility and safety. If you walk your dog late at night, particularly along busy streets, this should be used year-round. While you're at it, you should pick up one for yourself as well. Make both of you as obvious as possible while walking to avoid a tragedy.
EAR PROTECTION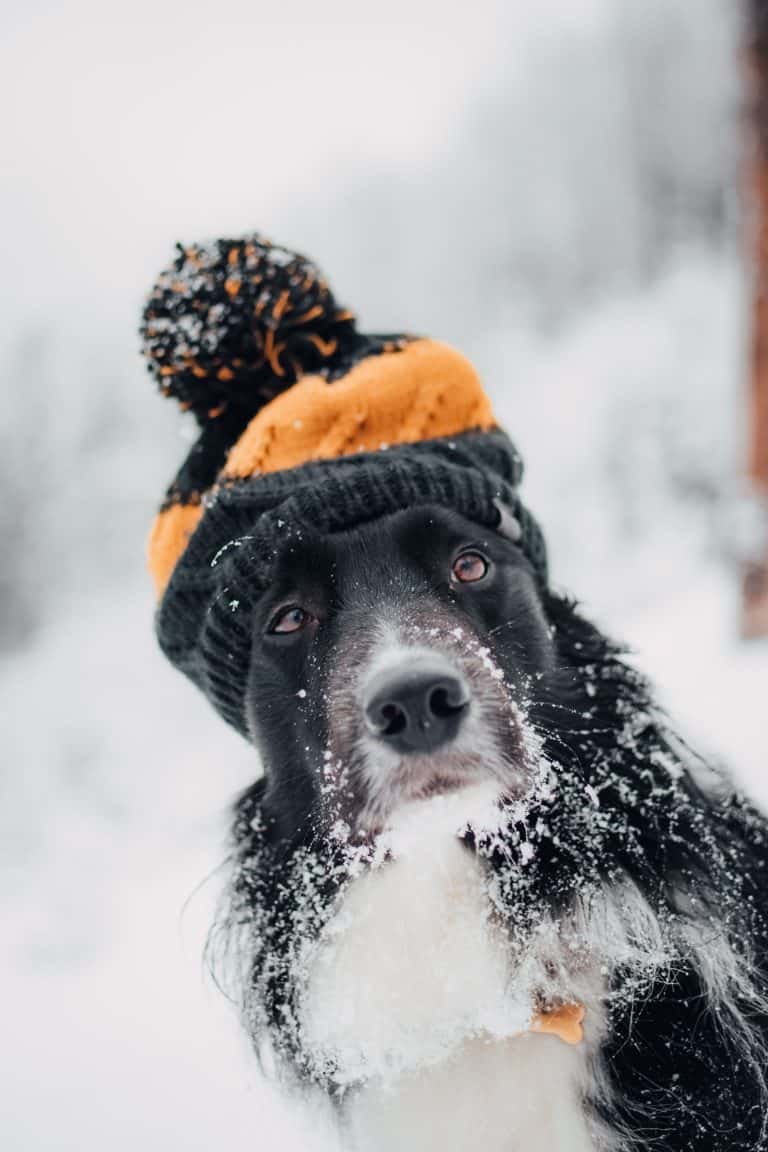 Dog's ears are the most sensitive to cold. Since they consist of only a thin piece of skin, frostbite can set in here faster than anywhere else on the body. Both fleece hoods and ear coozies can keep your dog's ears warm and safe. If you are outside for longer than you expected, and don't have a hood for your dog, human ear muffs can work in a pinch.
DOG BOOTIES – ARE THEY NECESSARY?
EFFECTS OF ICE MELT ON DOGS
If you live in a snowy suburban or urban environment, ice melt made with sodium chloride or calcium chloride will be used on sidewalks and roads. Ice melts not listed as pet safe depend on one of two chemicals. Both sodium chloride and calcium chloride cause irritation to a dog's paws. And both, if ingested, can cause anything from vomiting and diarrhea to death. Dogs will often lick their paws to ease the irritation and get sick.
To prevent illness in your dogs, you can do one of two things:
Have a moist paper towel at the doorway. When you come in from your walk, wipe down your pet's feet to remove any ice melt residue. This will also remove the ice balls that tend to gather between a dog's toes when there is snow on the ground.
Get a pair of booties for your dog to wear whenever you go outside. The success of this will depend on both you and your dog's patience level. You will likely have to go the first route for any but the smallest, most accommodating dogs.
WHAT IS HYPOTHERMIA?
Hypothermia occurs when the core temperature of a dog falls below normal. Serious deficits in bodily temperature can cause death. The normal temperature for a dog is between 101- and 102.5-degrees Fahrenheit. Below this level, hypothermia is setting in. If body temperature falls below 90 degrees, severe hypothermia is occurring.
EFFECT OF COLD ON DOGS
So, you and your dog are outside in the cold – playing, hiking, etc. What signs should you look for to know if it's time to move inside?
Your dog is shivering. This is the body's attempt to warm itself. A shivering dog should be taken inside immediately. Wrap him in a warm blanket. If you are not close to home, put her inside your car and turn on the heat to a reasonable (not overly warm) temperature.
Shallow breathing. This symptom indicates distress – again, moving the dog out of the cold environment immediately is advised.
Take her inside. If this condition does not improve rapidly with removal from the cold, seek veterinary help right away.
MORE DANGEROUS SIGNS OF HYPOTHERMIA
If you see any of the below symptoms, take your dog to the veterinarian immediately. Severe hypothermia, left untreated, can result in death.
Muscle stiffness.
A blank stare
Fixed and dilated pupils.
WHAT IS FROSTBITE?
Frostbite occurs when the tissues on the body literally freeze so that blood can be diverted to other parts of the body to keep the core temperature high. On dogs, the body parts most affected are paws, ears, and the tip of the tail.
SIGNS OF FROSTBITE
Discoloration of the area – particularly gray or whitish colors
Pain when touched
Swelling
Blisters
If you suspect your dog is suffering from frostbite, get them in a warm place immediately, but do NOT try to warm up the affected part. Frostbite merits a definite trip to the veterinarian. Left untreated, frostbite can kill the tissue altogether resulting in forced amputation.
WINTER FUN
Above all, enjoy the winter with your dog. Many dogs love jumping and playing in the snow, and a good hike is enjoyable for sturdy, active dogs. With the proper protection, winter adventures can be just as fun as summer ones.
Photo of small dog in red sweater by Samantha Hurley from Burst
Yorkshire Terrier in the snow image by Yama Zsuzsanna Márkus from Pixabay
Pit bull terrier in coat Image by Marina Malcevski from Pixabay
Black and white dog wearing hat photo by Tadeusz Lakota on Unsplash
Small dog looking out over snow photo by Pezibear from Pixabay