UPDATED FOR 2021
Below is just a small smattering of inexpensive gifts for cat lovers in your life.  Perfect as teacher gifts, Secret Santa presents, holiday stocking stuffers, or hostess gifts, please browse the selection below.  There is no more appreciated gift to a cat loving friend than one which showcases that affection. Maybe you'll want to buy an extra or two to keep on hand for a thoughtful last-minute gift.
Many of these would also be quite charming as "thank you" gifts to your local shelter workers.  They work hard, often for low pay, because of their love for animals – why not get them a special treat as a token of appreciation?
All the inexpensive gifts for cat lovers listed below are available through Etsy.  I have also chosen items that will ship relatively quickly so as not to disappoint a recipient due to late arrival.  All sellers have ratings of at least 4.5 stars.
I have also been careful not to list any strictly holiday gifts, so that you can return to this guide anytime you need inexpensive gifts for cat lovers.
As an Etsy Affiliate and a Lovimals Affiliate, I earn from qualifying purchases.
INEXPENSIVE GIFTS FOR CAT LOVERS – DINING UTENSILS UNDER $30.00
Available in both 11 ounce and 15 ounce sizes, both are under $20.00.  This can be personalized with up to six cat names. There's nothing like a unique present to bring a smile to someone's face. Seller ships from the United States – delivery in one to two weeks.
This one also comes in two sizes. Custom made at the time of orders; these are dishwasher safe. More of an art mug than any of those above, this would be a perfect gift for the cat lover who looks for the unusual.  Ships from the United States within 3 to 5 business days.
This mug is available in an 11 ounce size.  Ships in little over a week from order, shipped from the United States.  Available from UpliftingGiftShop through Etsy, this is one of many cat lover mugs they produce.
11 ounces. Unique handmade art from West Yorkshire in the United Kingdom, these can also be personalized by the artist. Since they ship from overseas, allow plenty of time to get this as a gift.
Shipping from Poland, this handmade plate is listed as arriving within two weeks of order.  The seller, Lamabo Ceramics, has a 5-star rating with over 750 sales.  Perfect to add a little whimsey to a cat lovers kitchen.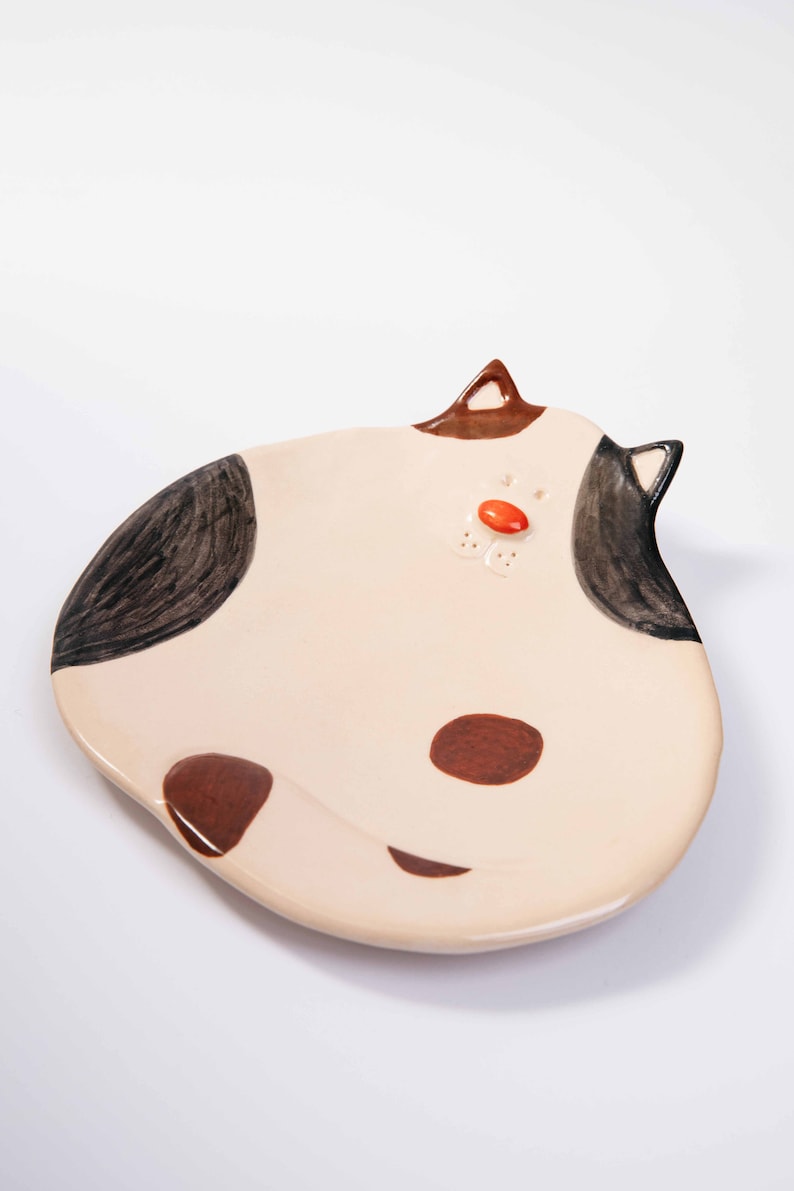 INEXPENSIVE GIFTS FOR CAT LOVERS – WEARABLES UNDER $30.00
This adorable embroidered t-shirt comes in Men's sizes only, so order one size down for a woman's shirt.  Comes in light gray or dark gray, and ships from the United States.  A cute gift for a cat-loving friend. This seller has over 1,700 sales on Etsy.
This one comes from an Etsy seller with a 5-star review and over 4,000 sales.  Shipping from the United States, there is plenty of time for it to get here for holiday giving, or any special occasion.  Comes in 10 colors.  For a little extra, you can get this design in a hoodie.
I have to admit I'm a sucker for novelty socks and earrings. These are from Lovimals – a company which specializes in gifts personalized with your pet's face.  Just upload a photo of your (or your friend's) pet, place the order, and you'll soon have a unique gift, or present for yourself.  While you're on the website, check out the rest of their products.
INEXPENSIVE GIFTS FOR CAT LOVERS – HOME DECOR UNDER $30.00
This original and interesting wall hanging is handmade in Latvia.  Because of the distance, if you're in the US, please allow at least three weeks for delivery.  This seller has 4.5 star reviews, and offers many other geometric wall hangings, including at least one other cat-themed one.
These are handmade in the United States and come in different styles. They can be cleaned with soap and water, and each is signed.  She also takes custom orders, however, be aware that custom products have longer lead times. Seller has a 5-star rating.  These will brighten up the home of any true cat lover.
This one has more of a country feel.  Made of metal, with brass charms, this seller has a 5-star rating.  This ships within 2 weeks from Oregon.  A pretty addition to any country-themed home or room.
This novelty calendar was created by a former Disney Imagineer who now creates the sets for Robot Chicken. Full of creative images, Kat Evans, the artist, will be donating a percentage of sales to two Los Angeles, CA based cat charities – Kitten Rescue and Cat Connection.  A limited edition, this makes a unique gift, or a great conversation piece for your home.
INEXPENSIVE GIFTS FOR CAT LOVERS – JEWELRY UNDER $30.00
This handmade beauty is made in the United Kingdom – make sure you order in plenty of time for shipping.  Made by DesignFioreDiLoto, this vendor also makes other cat-themed jewelry, all hand created in their studio.
This sweet necklace is handmade in the United States, and ships within 3 to 5 days.  A perfect gift for the person who loves both cats and books.
These handmade rings ship from the United States and deliver quickly.  This comes in three colors and are adjustable to fit most fingers.  Five-star seller with over 7,000 sales.
Made of polymer clay, this ships from Spain, so, if you need these for a particular occasion, please order early. Tsuin Bros has a 5-star rating without over 17,000!! sales.  An adorable and inexpensive gift for a shelter worker, a teacher, or your favorite veterinarian or veterinary tech.
I hope you can find something that you'd love to gift (or to give to yourself) in this listing of inexpensive gifts for cat lovers.  There are so many creative ideas out there that the only difficulty becomes choosing among all the options. But we all know from experience that, when a friend takes the time to choose something that really reflects your personality and interests, the gift is so much more special.