Just like with humans, dogs collect bacteria from food, stray sticks picked up outside, and anything else that goes into their mouths. Until relatively recently, it was highly unusual for owners to brush their pet's teeth, so all of that matter was left inside the mouth to rot.  Eventually infection sets in, and results in pain.  You should create a systematic plan for your dog to prevent things from ever getting to the infection stage.
HOW TO CARE FOR YOUR DOG'S TEETH
As an Amazon Associate I earn from qualifying purchases.
REGULAR TOOTH BRUSHING
If your dog will tolerate it (and most will, given the proper introduction), daily, or, at minimum, three times a week, tooth brushing is the best way to prevent dental issues.  Train your pet to allow this, the earlier in life, the better, but even older dogs can be acclimatized to dental brushing.
TRAINING YOUR DOG TO ALLOW BRUSHING
To start, use a strong smelling, moist food that your dog likes. Beef bouillon, moist dog food, chicken broth are good examples. Get some on your finger and massage your dog's mouth for a minute or so every day to get him used to having your fingers near his mouth.  As he becomes more accustomed, gently lift your dog's lip and massage his gums and teeth. You want to make sure that this is a pleasant experience for her, so throw in extra words of praise, and use an excited tone of voice. Once your pet considers this a normal part of her life, it's time to move on to the toothbrush.
THE TOOTHBRUSH
There are several options to choose from here – from gauze, to a smaller sized normal-looking toothbrush, to a bristled toothbrush that fits over the owner's finger.  Whichever you choose, take some time to familiarize your pet with it, before putting it in his mouth.  You can let her smell it, and even pick it up in her mouth if you know she won't destroy it. Get one brush for a single pet, and replace as necessary.
Virbac C.E.T. Dual Ended Toothbrush
is a double sided toothbrush with gum stimulator by a well-known brand in the field of pet dental health. Or, get a group of four different sized pet toothbrushes, good for anyone who has several pets with differing sizes. Many dogs won't deal well with the toothbrush, but are fine with their owner's hands near their mouths.  For these dogs, the finger toothbrush works well.  Just expect to wipe off a lot of slobber at the end of this procedure.
GETTING USED TO THE TOOTHBRUSH
As with most training, take your time with this step.  Show your pet the toothbrush and let her investigate as long as she wants. Remember to heap on the praise every time you work with your dog.  Be prepared to return to a previous step if your dog shows any anxiety.  Once you feel that the toothbrush has been accepted, try gently touching his teeth with it, moving slowly in a circular motion.  If he accepts this without complaint, you're ready to move on to the toothpaste.
HOW TO TAKE CARE OF YOUR DOG'S TEETH – TOOTHPASTE
First – NEVER use human toothpaste on your dog.  Fluoride is toxic to pets.  There are several different pastes formulated just for pets, with flavors designed to entice your dog and make brushing a pleasant experience. You can buy a 3 pack of Arm and Hammer mint and baking soda toothpaste (bet you didn't know they also made toothpaste for pets!) For dogs that prefer meat flavors, try the
Petrodex Enzymatic Toothpaste Dog Poultry Flavor FamilyValue 3Pack (6.2oz)
As an Etsy Associate I earn from qualifying purchases.
HOW TO CARE FOR YOUR DOG'S TEETH – CHEWIES AND TOYS
There are several types of chew treats, such as
Greenies Original Petite Natural Dog Dental Care Chews Oral Health Dog Treats, 36 Ounce Pack (60 Treats)
.  These treats come in a variety of sizes for different size dogs and are great for dogs who chew.  If you have a dog that swallows things whole though, you may want to steer clear of these (don't ask me how I know). There are also chew toys designed specifically for gum stimulation and natural tooth scrubbing, like the one pictured below available on Etsy.  Some dogs thoroughly enjoy chewing, others do not.  As with everything else, experiment a bit until you find just the right fit for your pet. Neither of these options is a substitute for brushing, but they may cut down on the time you need to get your dog's teeth clean.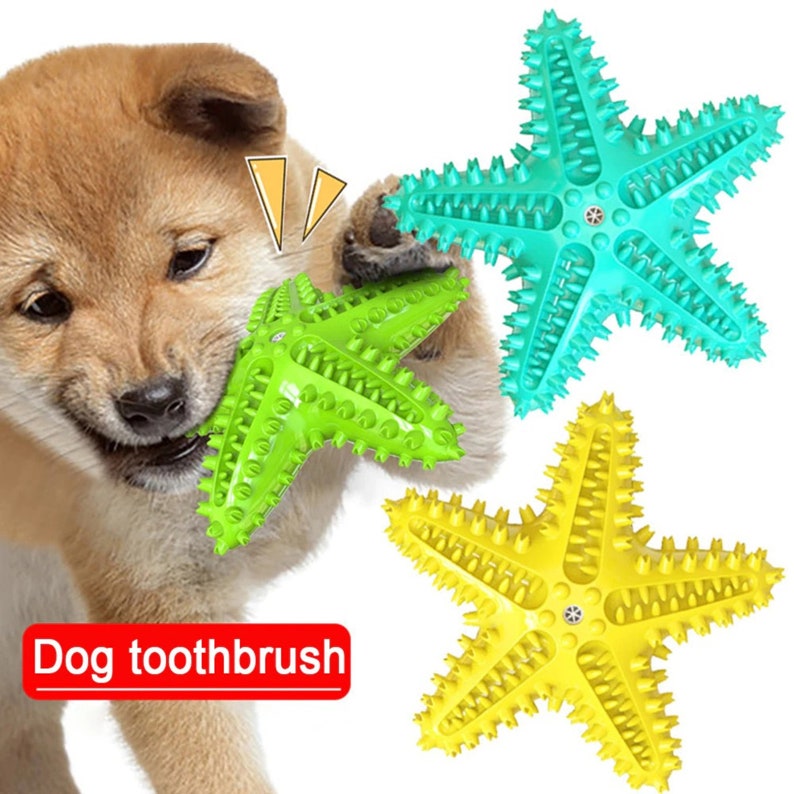 HOW TO CARE FOR YOUR DOG'S TEETH – SURGERY
Even with diligent brushing, your dog will need a teeth cleaning on a regular basis.  Due to the inability of explaining to your pet what is to happen, most cleanings are performed under general anesthesia. There are organizations which purport to perform anesthesia-free cleanings, but most veterinarians disagree with this practice as it's impossible to reach all portions of the tooth necessary, and can also increase the risk of infection. Generally, dental surgery includes pre-surgery bloodwork to ensure your pet is healthy enough for anesthesia, x-rays to determine tooth damage, monitoring during surgery, IV fluids, and cleaning and polishing of teeth.  Bloodwork is sometimes optional for a young dog; but almost always required for any dog over 7. An overnight stay in the hospital and antibiotics to take home are also part of dental procedures. Necessary extractions will be charged separately. There will be a pre-dental exam, making sure your dog is healthy enough for anesthesia and providing you with pre-op instructions. If there is obvious infection, your pet may be put on an antibiotic for a few days prior to surgery.
WHAT HAPPENS DURING SURGERY?
When the day arrives, you will drop your dog off early to the vet's. Your dog may then receive a pre-anesthesia medication to calm her down. You will be asked for permission to insert an IV catheter – by all means grant it.  If a catheter is already in place, necessary drugs can be introduced quickly through that portal if any signs of distress occur during surgery. Anesthesia will then be introduced. Once your pet is under general anesthesia, the actual dental work begins. A veterinary technician, or a veterinarian, will clean and polish all teeth above and below the gum line. If problem areas show up, these will be x-rayed and shown to the veterinarian so that she can determine whether or not these teeth need extraction. If so, the extraction is performed while the pet is on the table, saving them from having to go under anesthesia twice. When your dog has come fully out of anesthesia, one of the support staff will call you to let you know that you can pick him up. On arrival, you will meet with a veterinary technician who will go over post-operative care.  This will mostly consist of a pain medication and an antibiotic, plus discussion of what your dog should eat in the next few days. You should have wet food on hand – it would be too painful for your pet to have to crunch dry food for the next few days. Give all medications as directed by your veterinarian. Dogs don't show pain the way humans do – but they feel it. And antibiotics will help prevent post-op infections.  Your paperwork should list all reasons that you should return to the practice, including continuous bleeding from the mouth, or other obvious distress signals.  Don't worry – most dentals are standard and don't involve complications. It's usually best to go to your regular veterinarian, rather than shopping for cost. Your regular vet knows your pet and can best determine what, if any, tests are necessary before surgery.  See
How To Choose A Veterinarian
.
HOW MUCH DOES DENTAL SURGERY COST?
Dental surgery for dogs is NOT cheap.  It's wise to put money aside each month for this so as to minimize the impact on your finances. Or you can finance this procedure through one of the credit cards specifically designed for medical and veterinarian bills.  Just be careful NOT to pay these credit cards late – or interest will accrue from the entire financed amount, even if you have only a few dollars left to pay. For a young, healthy dog, who has had regular tooth brushing, figure a low of $500.00, up to $1,500.00.  This varies depending on location – urban areas will generally be more expensive; size of the dog – anesthesia costs will be higher for a large dog; and extent of tooth damage. For an older dog, who will require blood work before any anesthesia is administered, and whose teeth may be more damaged, costs can exceed $3,000. Regular tooth care at home will help keep these costs to a minimum.
THE FORGOTTEN VETERINARY HEALTH PRACTICE – DENTAL CARE
Just as you wouldn't expect a child to never brush his teeth, and never visit a dentist, don't expect that your dog can have a pain-free mouth without regular dental care. And remember, any care you can provide at home will absolutely cut down on veterinary bills in the future.