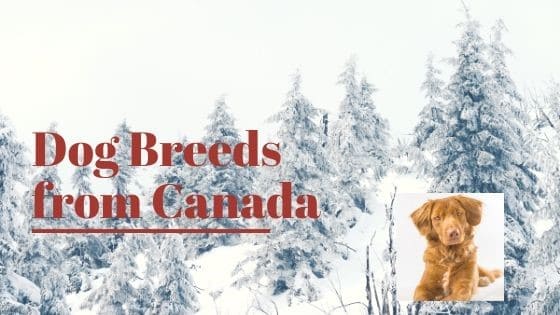 As is to be expected in a cold climate, Canada is not the home of small or fragile dogs. Dog breeds from Canada tend to be thick coated, hardy, and large, or smooth coated working dogs – no tiny lapdogs here!
Many of Canada's dog breeds have with thick, water-repellent undercoats able to withstand a harsh, long winter. Several originated in the far north as working dogs and protectors, others were bred for coastal conditions. Here are a few you're familiar with, and a couple you probably have never heard of:
CANADIAN ESKIMO DOG
STATUS – THREATENED.
Fewer than 300 dogs still exist.
HISTORY
First bred by the Inuit of the Arctic regions, the date of origin of the Canadian Eskimo Dog cannot be determined. In the years between 1950 and 1970, the Royal Canadian Mounted Police slaughtered thousands of Inuit sled dogs. Exact figures are unknown, but the loss of canine life was overwhelming. Although the Inuit claim that this was done for intimidation, the RCMP still maintains that it was to weed out diseased animals. Whatever the purpose, the massacre very nearly exterminated the Canadian Eskimo Dog.
TEMPERAMENT
Canadian Eskimo dogs are typical working dogs – loyal to their owner, but not inclined to be lap dogs. They are not a breed for children, and need a job to do to keep them occupied. Since they were bred in the Arctic, Canadian Eskimo Dogs are hardy in even extreme temperatures with adequate shelter and water. They are definitely NOT apartment dwellers.
RESCUES
Since there are so few Canadian Eskimo dogs, there are no specific rescues, although there are a few breeders.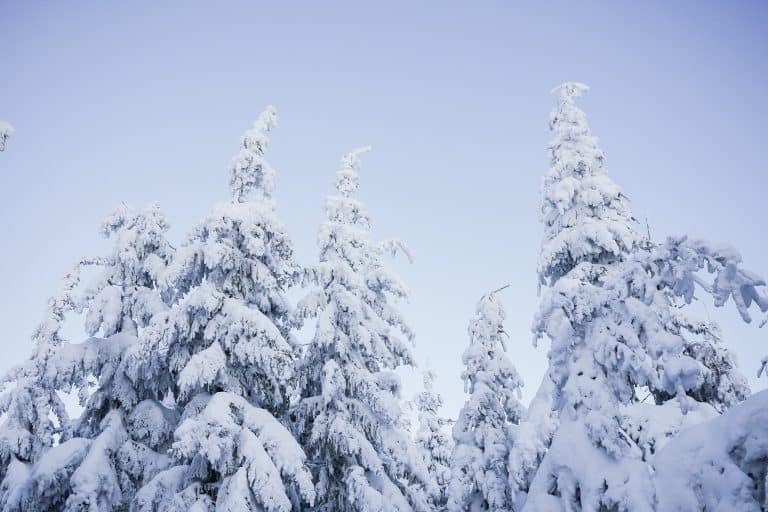 LABRADOR HUSKY
STATUS – THREATENED.
It is unknown how many purebred Labrador Huskies remain.
HISTORY
Like the Canadian Eskimo Dog, Labrador Huskies were bred by the Inuit. They mostly served as sled dogs. Very intelligent, Labrador Huskies have also served as bomb detection and search and rescue dogs.
TEMPERAMENT
Another strictly working breed, they need thorough training and plenty of exercise to keep them out of trouble. Unless they have been raised with them, these dogs have too strong a prey drive to trust them around cats or small dogs.
RESCUES
Although these dogs are rare, organizations such as Arctic Rescue in Utah may have mixes for adoption from time to time.
SEPPALA SIBERIAN SLEDDOG
STATUS – RARE
HISTORY
The first Seppala was brought into Canada from Siberia by the dogsledder Leonhard Seppala. Winning race after race, breeders imported more dogs from Siberia to start the line. The breed is not recognized by any kennel organization.
TEMPERAMENT
Resembling a wolf, Seppalas are surprisingly trainable, with gentle personalities. However, they ARE a working dog, and have the strength and boundless energy that requires. They are said to be good with children. Seppalas absolutely need an involved owner, one who will provide for both mental and physical stimulation that this breed so desperately needs. Therefore, they are not a dog for everyone.
HEALTH
These dogs are suited to a cold climate, so they do not handle heat well. Fairly healthy, they are prone to cancer, and can also suffer from allergies. Like the other double-coated breeds mentioned here, they blow their undercoat twice a year. Daily grooming is a necessity, and the attitude that dog hair is a fashion accessory is a plus.
RESCUES
Since the Seppala is so rare, there are no specific rescues for this breed. However, Northern Exposure Husky Rescue in New Jersey rescues all Siberian Husky breeds.
LANDSEER
STATUS – UNCOMMON
HISTORY
Although many people refer to the Landseer as a Landseer Newfoundland, they are actually two different breeds with a common ancestor. In the early 1800s, Newfoundland dogs came to England with Canadian fishermen. Bred with other European dogs, the Landseer has the distinctive black and white coat, and longer legs than the purebred Newfoundland dog. Some official organizations recognize them as a separate breed, but the American Kennel Club among others still considers them a variation of the Newfoundland.
TEMPERAMENT
Gentle and patient, Landseers are known to be good with children. Because of their size, however, they can unintentionally knock a small child over, so care must be taken when they are with children. They are a naturally protective breed, but not an aggressive one.
Landseers, like their cousin the Newfie, tend to be messy eaters and drinkers, and may slobber or drool. They love their people, and do not do well if left alone for long periods of time. Despite their size, their exercise needs are minimal – one good walk a day should be sufficient. If you live on the water, however, you'll find that your Landseer absolutely loves to swim. You'll have to have an exhaustive supply of towels to keep him dry.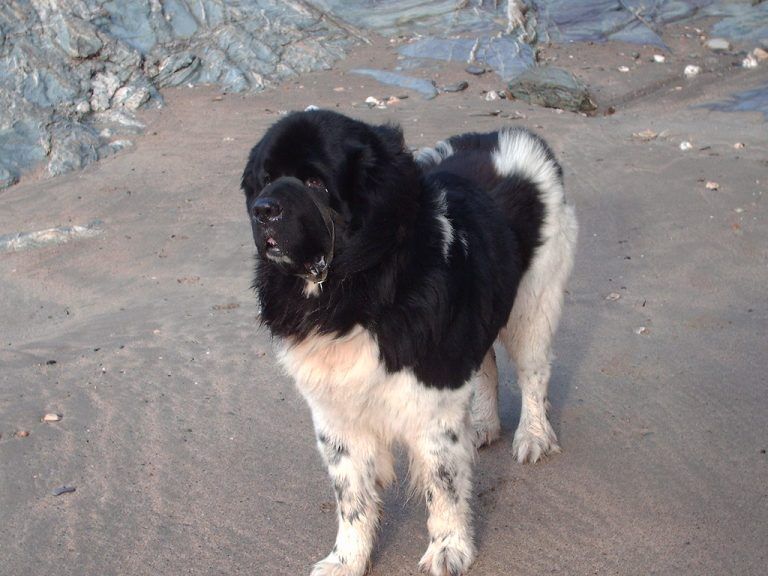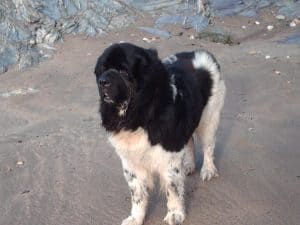 HEALTH
As with all of the giant breeds, Landseers are not long-lived. Seven to eight years is the average, with some living as long as ten years. They can suffer from hip dysplasia and bloat, and are very sensitive to heat. Loving and loyal companions, they're great for a family, but be aware you will have to say goodbye to them much earlier than the smaller breeds.
RESCUES
None specifically for Landseers, but Big Dogs, Huge Paws in Colorado, for example, specializes in the giant breeds.
NOVA SCOTIA DUCK TOLLING RETRIEVER
STATUS – UNCOMMON
HISTORY
A medium sized retriever, Nova Scotia Duck Tollers were first recognized in 1945 as a separate breed. Created in the early 19th century, Tollers are a mixture of retrievers, spaniels, and setters. They're the smallest of the retriever group weighing in at about 40 to 50 pounds. Unlike other retrievers, however, they attract the birds to them by dancing and then retrieve any downed birds.
TEMPERAMENT
Tollers are affectionate, energetic companions who do well with children. However, they are also extremely intelligent and bore easily. They can become destructive without enough exercise and distraction, so they're not dogs for people who are gone for several hours every day.
Great for hikers or joggers, the Duck Toller will give boundless loyalty and love to their human families. In other words, if you're a couch potato, look elsewhere for a dog, but if you're the active type, Tollers are wonderful dogs.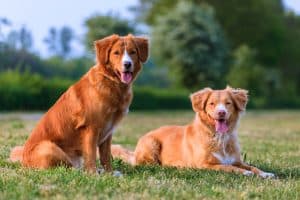 HEALTH
Because Tollers are medium-sized dogs, they have a longer lifespan than the giant breeds, living between 12 and 14 years. The breed is prone to Addison's disease and hypothyroidism and can suffer from dysplasia. They can also develop cataracts as they age.
RESCUES
Toller Rescue is a national organization dedicated to the Nova Scotia Duck Tolling Retriever breed. There are also many retriever rescues throughout the country which may have Tollers for adoption.
NEWFOUNDLAND DOG
STATUS – COMMON
HISTORY
As per the name, Newfoundland dogs were first bred in Newfoundland, Canada in the 1600s from the St. John's dog and a mixture of various types of retrievers and mastiffs. The St. John's dog, a smaller Newfie, was the ancestor of modern retrievers. By the 1880s, the Newfoundland breed standard was well established. It was formally recognized as a distinct breed by the AKC in 1886.
Newfoundland dogs were used to haul fishing nets, as well as to pull small carts. Today, they are often lifesaving/water rescue dogs due to their ability to swim, and their gentle, protective temperament.
TEMPERAMENT
A sweet disposition is listed as a breed standard by the American Kennel Club. Minus bad experiences with humans, Newfoundland dogs are gentle, love to be with their people, and natural rescue animals. If their families are threatened, they will become protective. Generally, however, the Newfoundland loves everyone they meet, and are calm and easygoing with children.
Sloppy drinkers because of their large mouths and heads, expect dripping jowls, and lots of water droplets around the house.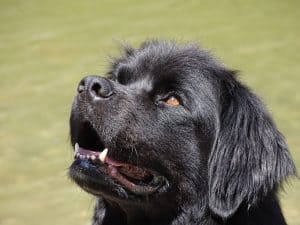 Newfoundlands love the water and will thrive with owners who will let them swim on occasion.
HEALTH
The good-natured Newfoundland, because of its giant size, is not long-lived. Average lifespan is between 8 to 10 years. Like the Landseer, they are prone to bloat (gastric torsion), dysplasia, and other health issues that arise from their size. Take care of your Newfie in the heat – they don't tolerate it well and can suffer from heat exhaustion if left too long outside.
They do have an undercoat which they blow twice a year (spring and fall). In spring, you'll have a virtual blizzard of dog hair and your pet will require daily brushing.
FAMOUS NEWFIES
There are lots of famous Newfoundland dogs, since these gentle giants are natural rescue dogs. Below are just a few examples:
Seaman. This Newfoundland accompanied Lewis and Clark on their expedition. There is a well-known children's book written about his adventures.
Hairy Man. Along with his owner, Ann Harvey, Hairy Man saved more than 180 people from a shipwreck off the coast of Newfoundland in 1828. Swimming through rough seas, Hairy Man dragged each of the survivors individually to safety.
Bilbo saved three swimmers from drowning at a beach in Cornwall, England. He would swim out to the victim and push a life preserver towards them. Once he felt weight on the preserver, Bilbo towed the person back toward the boat. Bilbo also helped with beach and boat safety training classes.
RESCUES
The Newfie is a popular breed, with lots of rescues. South Central Newfoundland Rescue in Indiana and is just one of many organizations.
LABRADOR RETRIEVER
STATUS – COMMON
HISTORY
The very name is a misnomer, since the breed originated in Newfoundland, and not in Labrador. Prized by the British, although the origin was in Canada, the actual development of Labrador Retrievers occurred in Europe. The breed was very popular among the British aristocracy as gun dogs for duck hunting. By the 1870s Labrador Retrievers were familiar sights in Europe. The first yellow Labrador was born in 1899 in Great Britain. Labrador Retriever was recognized as a distinct breed in the early 1900s.
TEMPERAMENT
Labs are generally goofballs. Highly energetic, loving, and full of fun, they are the clowns of the dog world. These dogs need training, exercise, and attentive owners, but with these, they will thrive. Good with children and other pets, Labs will roam when something grabs their attention. They need secure fencing, or dedicated leash walking.
Labrador Retrievers were bred as water retrieving dogs and so love to swim. If you have a pool, be prepared to fence it off to keep your pet from joining you.
HEALTH
Labradors, like many other breeds, can suffer from dysplasia of the knees or elbows. Labs need to be monitored for obesity since they absolutely adore food and extra weight puts additional pressure on the joints. They can also suffer from hypothyroidism and eye issues.
Labs are relatively long-lived and their life span is between 10 and 12 years.
Like other water retrievers, the Lab has an undercoat which it sheds twice a year. Daily brushing is a must.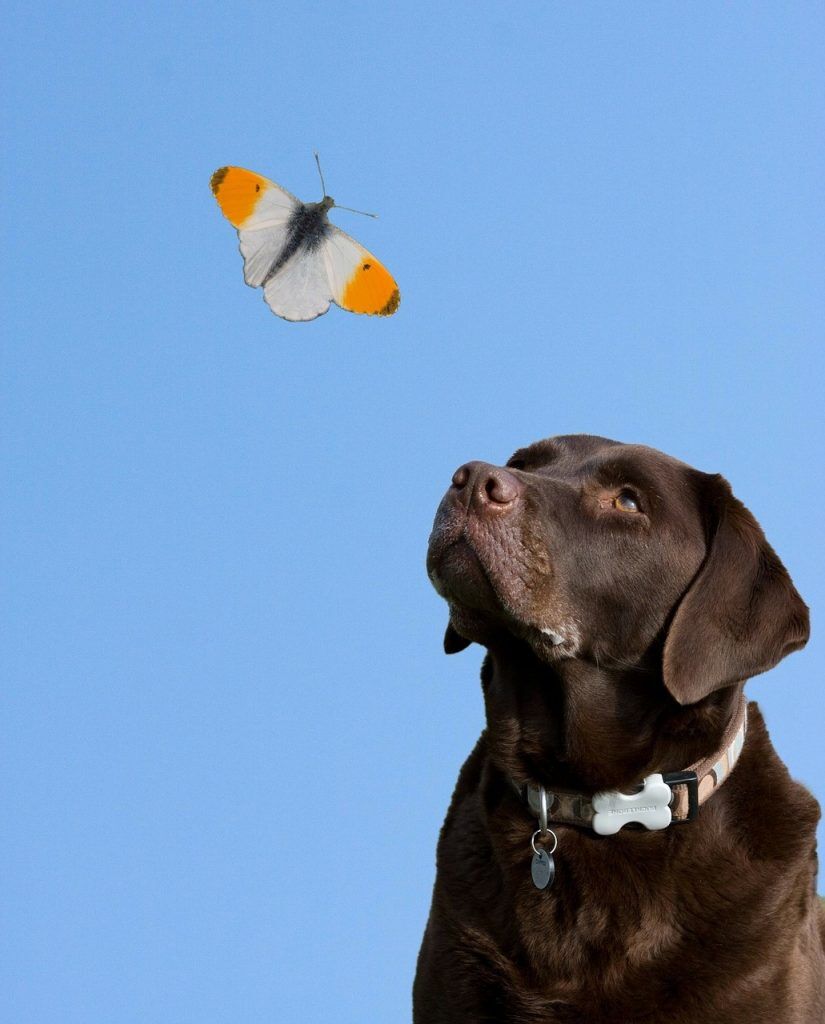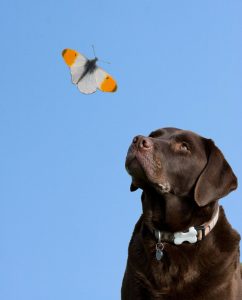 FAMOUS LABRADOR RETRIEVERS
Labs have a long history of being used as service dogs. They also make excellent law enforcement and rescue partners.
Here are some of the famous examples of the breed:
Jake. A rescue dog himself, Jake trained as a rescuer for others. Serving at the 9/11 World Trade site for 17 days, he later assisted in search and rescue operations in the aftermath of Hurricane Katrina.
Sully. Trained as a veteran service dog, Sully assisted George H. W. Bush during the last 18 months of the President's life. He is now serving as a facility dog at the Walter Reed Army Medical Center.
Zanjeer. A bomb detection dog, he was responsible for locating over 68 bombs in Malaysia in the aftermath of the 1993 deadly bombings there. It is estimated that he prevented at least three additional mass casualty attacks.
RESCUES
As with most popular breeds (the Labrador Retriever is number one in popularity where it has remained for many years), there are plenty of Labrador breed-specific rescues. Two are Brookline Labrador Retriever Rescue in Pennsylvania and Southern California Labrador Retriever Rescue – a Google search will turn up many more.
In short, dog breeds from Canada are hard-working, loyal, and gentle – good for active families. Most are heat sensitive and need to be protected in the hot summer months. And many have undercoats which require regular grooming. If one of these breeds appeals to you, look for a rescue which specializes in them. You might have to travel a bit to meet the dog, but you'll be saving one of these wonderful dogs from life in a shelter.
To learn about dog breeds from Mexico, click here.
Image of Newfoundland in green grass by Mike Harris from Pixabay
Image of Newfoundland looking up by Maximilliane from Pixabay
Labrador Retriever looking up by Karen Arnold from Pixabay
Photo of Landseer Dog by outlander 2011 on Foter.com / CC BY
Candian Eskimo dog photo by Petful.com on Foter.com / CC BY
Nova Scotia Duck Tolling Retriever Photo by Tom Ek on Foter.com / CC BY-SA
Pair of Duck Tollers photo by Photo by haroldmeerveld on Foter.com / CC BY