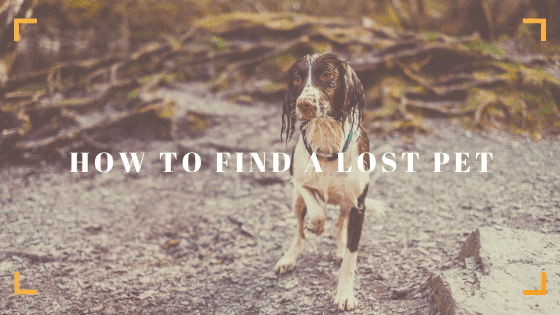 HOW TO FIND A LOST PET
There's nothing worse than knowing your pet is lost and alone – particularly in bad weather, or if he is ill or on medication. Thankfully, there are many steps you can take to keep your pet from running off, or find her quickly should the worst happen.
HOW TO PREVENT YOUR PET FROM GETTING LOST
FENCING
If you have a fenced yard, set aside a weekly time to walk around the entire perimeter to check for loose wire, missing boards, or holes. Even a dog who shows no interest in wandering can get enticed by something interesting happening just out of reach. A deer, a squirrel, or, in the case of my dog, a hawk bringing down prey beyond the fence. (Ask me how I know about the last one….)
Having a set time to inspect your fencing will keep many a dog from getting lost.
INVISIBLE FENCING
Although this works well for some dogs, I'm not a big fan. There are breeds, terriers in particular, which consider an invisible fence just a suggestion. These guys will run through the barrier should something fascinating pass by, and can be gone. Also, invisible fencing, even if it does keep your dog in, does NOT keep other animals out. This could mean tragedy should a predator enter your yard. Your dog would have no way to escape.
"SHE ALWAYS COMES BACK" – POTTY BREAKS
PETS CAN GET LOST IN SECONDS
It always amazes me how many lost dog posts I see on Facebook with the owner saying they let the dog out to potty but "she always comes back". Unfortunately, she always came back until she didn't. And then you end up with a lost dog.
Dogs have the equivalent mental age of a toddler. You wouldn't let your two-year-old go out in the yard by herself. And it's no different for a dog. Bad things can happen, from your dog being stolen to an attack by a wild animal or another dog. And, like a two-year-old, many dogs have "shiny object syndrome". Show them something interesting and off they go. It's only later they discover that they're hopelessly lost.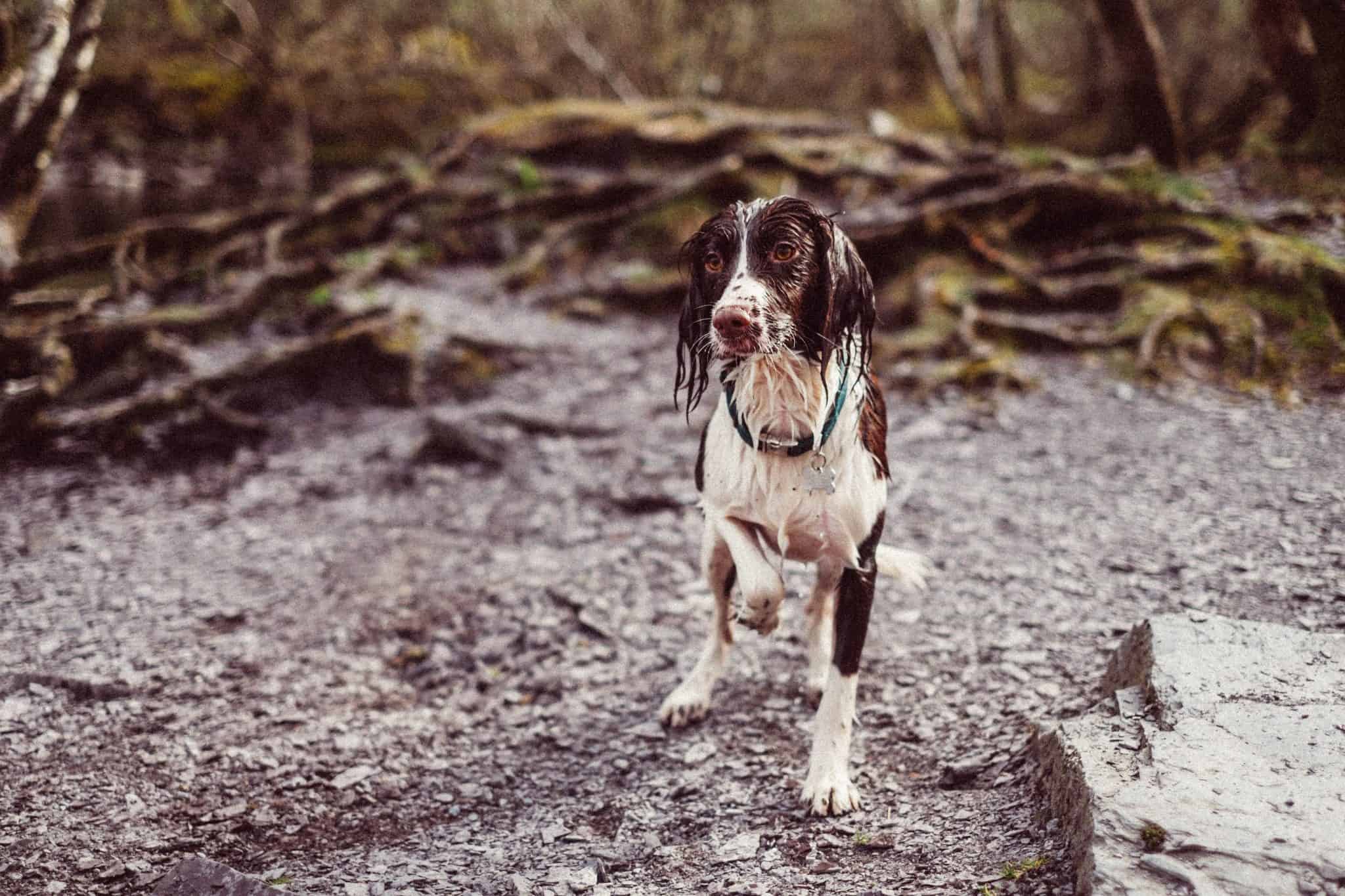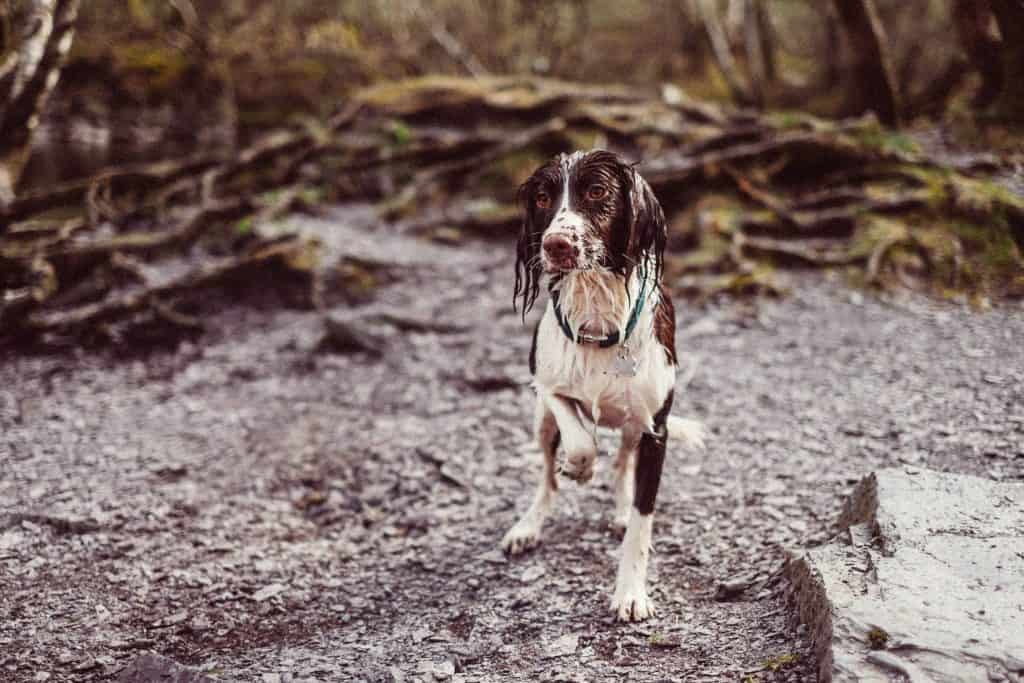 KEEP YOUR PET SAFE
There's a simple solution for this. If you don't have a secure fence, you must leash walk your dog. Whether it's raining, or snowing, hot, or cold, keeping your dog safe means staying with him. (It's likely your pet won't want to stay out very long himself in bad weather.)
The exercise is good for you – and the time you spend together on a walk is bonding time without distractions.
GUESTS
Sometimes guests, particularly those without pets of their own, don't think to close the door firmly. They may leave the screen door close slowly on its own, or prop the main door open to carry something in. Kids, too, are often "in the moment", and forget that a pet is in the house.
You can solve this problem either by crating your pet, or confining him to another room for the duration of the visit. Or, you can put signs at each exit reminding your guests not to let the pet out. The more guests, i.e. a party, the more vigilant you will have to be to avoid an accidental escape.
WHAT TO DO IMMEDIATELY YOU GET A NEW PET
MICROCHIP
There are plenty of companies which provide both microchips and registration which helps reunite lost pets and their owners quickly. A microchip is a small device injected under your dog or cat's skin, which can be scanned by almost any veterinarian's office. If you keep the registration current, you'll be called immediately your pet is found – happy reunion for everyone!
It usually costs under $50.00 to get your pet micro chipped. Some companies charge a small annual fee for registration, others a one-time only charge. Unless you have a serious reason not to, use whatever company your vet recommends. Most shelter pets will have already been micro chipped before you adopt – just make sure to change the registration into your name.
TAGS
Your pet should always have tags on. Even if you don't have one with the pet's name and your phone number, at least have a rabies tag on the collar. Then, if your pet is found, it's a simple matter to look up the rabies vaccination number and trace the veterinarian who gave the shot. Even if that's not your current vet, she should be able to direct the finders to your contact information.
There are some who worry that lost pets can get their collar caught and be unable to escape, but I think that's a much smaller risk than having a lost animal without any form of identification.
GPS TRACKERS
The latest in helping find a lost pet are GPS Trackers. Made for collars (or including the collar), these devices connect via Bluetooth and can send location information to your phone. Some will even track heart rate, respiration, and other health information, along with location. For a complete review of the different pet trackers available, check out this article at PC Mag.
IF YOUR PET GETS LOST DESPITE ALL PRECAUTIONS
Yes, it happens. Even the most diligent of pet owners will occasionally have a pet go walk-about. Here are some of the things that can help reunite you with your pet.
WHAT TO DO WHEN YOU CAN STILL SEE YOUR PET
And she's looking at you – fall down! Yes, all the way to the ground. Many dogs and some cats will return to investigate why their human is acting so oddly. The playful ones will want to join in the game. Just make sure they're close enough before grabbing for the collar – you don't want this to turn into a wild game of chase!
WHAT TO DO IF YOUR PET IS OUT OF SIGHT – HOW TO FIND A LOST PET
FLYERS
Make flyers and post them around the neighborhood or close to wherever the pet was last seen. Include a photograph or two and any unusual markings. Always include complete contact information, and it might be wise to include that information for your veterinarian as well. Vets often recognize their patients and will know just how to contact you.
Don't just post in the neighborhood, though. Take them to ALL the local veterinarians. Often someone who has found a lost animal will take them to their vet for a check-up. Then take them to all the local kennels, shelters and rescues, Animal Control. Join the local Facebook lost and found pets group and post there, and on your neighborhood Facebook pages.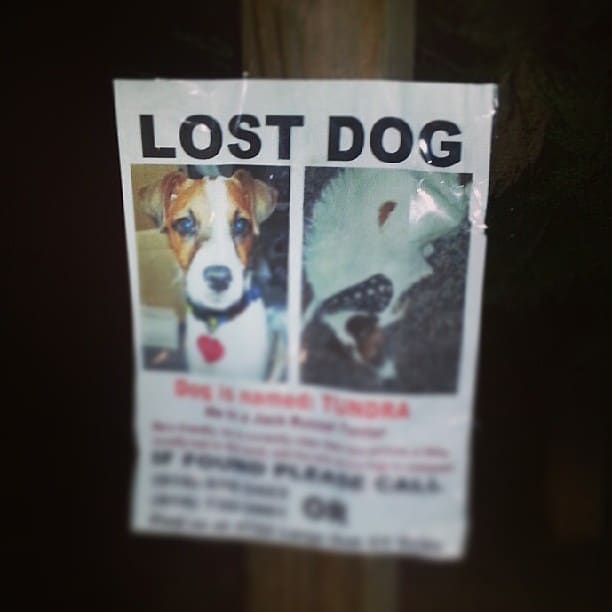 If you're located near an Interstate, put a few flyers at rest stops. If near a highway, post at local mini-marts and gas stations. Again, include COMPLETE contact information.
GO TO SHELTERS
Go to the shelters in person. All stray dogs are turned into the local government Animal Control facility where they must remain for a certain number of days (depending on the local laws) before being put up for adoption.
Don't call. Animal Control Offices are often understaffed and overwhelmed and the person who answers the phone may not be aware of a recent pick-up. Visit every day. Yes, they'll get tired of seeing you, but that's the only way to get your pet back.
Don't take the chance of your pet being euthanized when the staff member who took your call either is off that day, or doesn't remember the phone call. Go and look each and every day.
OFFER A REWARD
Sometimes offering a reward will make people look just a little harder for your pet. And, if he's been stolen in the first place, the reward may make the thief bring him back. Make sure you are clear that there will be "no questions asked".
FLIGHT MODE
WHAT IS FLIGHT MODE?
Although many organizations call it "flight mode", the more accurate term is "feral mode". Left on their own, many dogs will revert to instinctual behavior. These dogs will not come when called, and may run from their loving owner. Their instincts have kicked in, and all they're concerned about is food, water, shelter, and safety.
HOW QUICKLY DOES A DOG REVERT TO FLIGHT MODE?
Depending on the dog, flight mode can kick in within hours of being lost. For others, it may be days or even a week before instinct takes over. Newly adopted pets can go into survival mode very quickly as they don't yet have a close bond with their owner.
HOW TO RECOVER A DOG ONCE FLIGHT MODE HAS KICKED IN
Do NOT chase a dog once this has started. Chasing will only make your dog run away from you, possibly into oncoming traffic.
At this point, you'll need to trap your dog. He will recognize you eventually, but, until he does, you'll have to be very careful that he doesn't run away from you again.
HUMANE TRAPS
You can probably borrow a humane trap from your local rescue or Animal Control. Have some smelly treats inside – if it's your pet's favorite that's even better. Set the trap, then LEAVE. Don't hang around – if your dog is in flight mode she'll just be scared off. Check the trap morning, afternoon, and evening and once just before dark.
If there's something in the trap when you check, don't rush right up. Smelly food will attract not only neighborhood dogs and cats, but also skunks and raccoons. And you don't want THAT kind of surprise. Make sure it's a. A dog or cat; and b. Your dog or cat. Don't open the door – your pet will be scared, even of you. Get some help, and make sure the dog or cat is firmly attached to a leash before you open the trap.
If you can't find one, you can make your own. See the video below for instructions:
TRACKING ORGANIZATIONS
There are a few organizations which have sprung up which track lost pets. They are certainly worth a try. Be aware, however, that their statistics may not be stated accurately. A "find" rate of 90 plus percent may mean only that they tracked the pet to a location away from the house, not that the pet was actually recovered. Since many of these organizations are franchises, some groups are much more successful than others. There will also be different success rates by different tracking dogs. All these groups can also help find lost cats. When all else has failed, it's often nice to being able to bring in an outside organization to show you how to find a lost pet.
Here are three organizations that may help:
Missing Animal Scent Dog Network
Make sure that all costs are understood in advance, and be aware that, although these organizations can track your pet to a specific location, you will still need to do the flyers, trapping, and eventual capture. Never hire someone who calls you unsolicited after seeing a Lost poster.
CATS
Unfortunately, many local Animal Control offices have no facilities for cats, so you'll have to contact each private rescue in the area. If you're lucky, although they may not have taken possession of your cat, they'll have a Found report with contact information of the finders.
FINDING YOUR CAT
Don't empty the litter box. Put it outside your home – on the porch, or walkway. Cats can smell their litter box from a few blocks away and it may entice them to come home.
SEARCH UNDER HOUSES, SHEDS, ETC.
Pester your neighbors. Often, particularly with cats, a lost pet will climb into a quiet dark space afraid to come out. Ask if you can check under houses and sheds, or inside sheds. If your neighbors have a garage, ask them to do a thorough search since your pet may have gone in when the door was open. A friend of mine found her cat, after almost a week, in the neighbor's attic. Fortunately, although the kitty was hungry and unhappy, he went home and is doing well.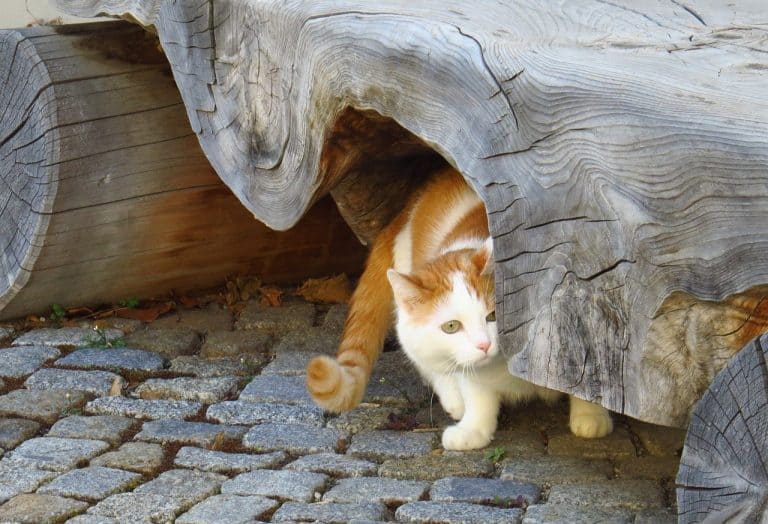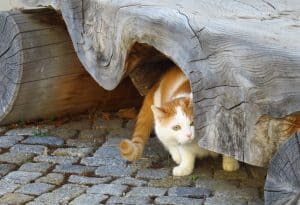 OTHER SUGGESTIONS
Follow all the other suggestions above – flyers, visits to shelters, posts on Facebook. Cats tend to stay closer to their homes than do dogs – pester your neighborhood. Someone is bound to have seen your kitty.
HOW MANY PETS GET LOST IN A YEAR?
Statistics show that 1 in 3 pets will get lost sometime in their lifetimes. Estimates are that about 10 million dogs and cats go missing, at least for a while, every year. I hope some of the suggestions about will help reduce that number, and that those pets who do get lost are returned to their families as soon as possible.
Wet dog photo by Mitchell Orr on Unsplash
Image of hiding cats by Adina Voicu from Pixabay
Hiding yellow and white cat photo by sidala from Pixabay
Jac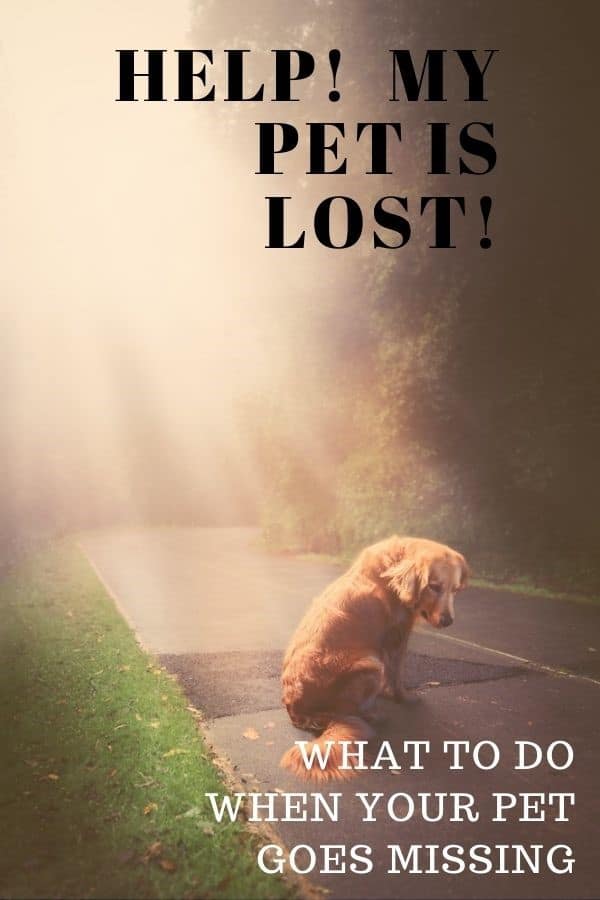 k Russell Lost Poster photo by Hikaru Kazushime on Foter.com / CC BY-SA