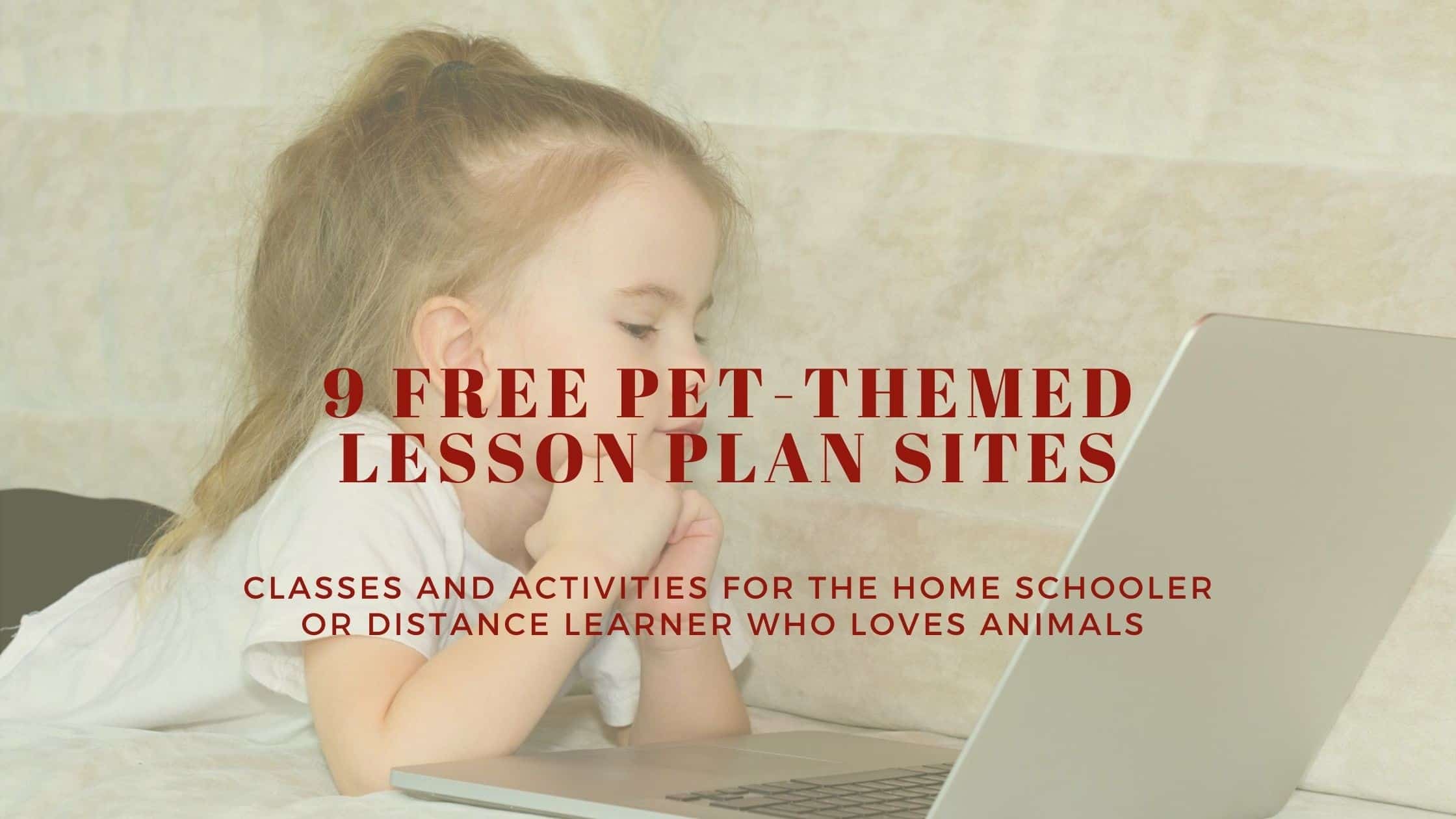 With homeschooling and distance learning becoming the norm, I've found some free pet-themed lesson plans from around the Internet. If your family is full of animal lovers, you now have the option of concentrating at least some of your efforts on subjects your child already loves. This strategy has proven very successful over the years, particularly when it comes to reluctant learners.
I have pulled a few of the options from each site to do a more thorough review. These are not ALL the resources available – pay each website a visit to discover more lessons.
Bear in mind that I am not recommending any of the resources listed below – the choice of curriculum should always be made with your families' values and beliefs in mind. You will embrace some of these resources, and will reject others – this post is to show you some of the options.
This post contains affiliate links. If you use these links to make a purchase, I may earn a commission, at no additional cost to you.
RESOURCES FOR FREE PET-THEMED LESSON PLANS
Below are just a few of the free pet-themed lesson plans available on the Internet. A thorough search could take many hours, so I've compiled some of the best options below:
Lesson plans covering K through 12. Usually, the National Humane Education Society sends educators to schools throughout the country to present programs concerning animal welfare. Because of the current situation, however, they have made many lesson plans available online – free for the taking. Each has a printable version, which makes it even easier. The National Humane Education Society also runs Briggs Animal Adoption Center in Charles Town, WV.
A few examples:
3rd – 8th grade
Dogs and Cats of the World – This lesson involves the student choosing a country that interests them, and then researching which breed comes from that country. Supplies are limited to common household items. Students create posters – either with the animal, the country, or the flag. Or, for the older grades, students create a research paper.
1st – 8th grade
Paper Plate Habitat – Students build a habitat for a particular species of animal on a paper plate using a small animal figurine and other simple craft supplies. Research involves understanding what sort of habitat the pupil's chose animal is appropriate. I see an inherent limit here – if a student chooses an unusual animal for which an appropriate figurine is unavailable. This could be solved by having the student find a photo of their animal and gluing onto cardboard.
I do think that the upper limit of 8th grade is too high – I would say appropriate for 1st through 6th.
These are only two of the lesson plans available from the National Humane Education Society – go to their website to discover them all.
This is a product of the Animal Humane Society out of Minnesota. They have many different free pet-themed lesson plans for grades K-12.
K – 5th Grade
Fun Feline Pie Charts
Fun math activity teaching children to read and understand pie charts and percentages. Colorful worksheet and great comparisons. Only drawback – question A.4. should read "are black OR grey", not AND. Still, with a quick edit from Mom or Dad, a great learning worksheet.
Grades 4 through 8
Just for fun and art. YouTube video to make a mobile using simply obtained craft supplies. There are several other videos as well – be sure to check them all out.
Grades 8 through 12
This one is adjustable to cover all age groups from 8 through 17. Covers history, animal breed identification, art, use of Power Point, all in a fun game format. Requires some creativity on the part of the adults to keep things interesting.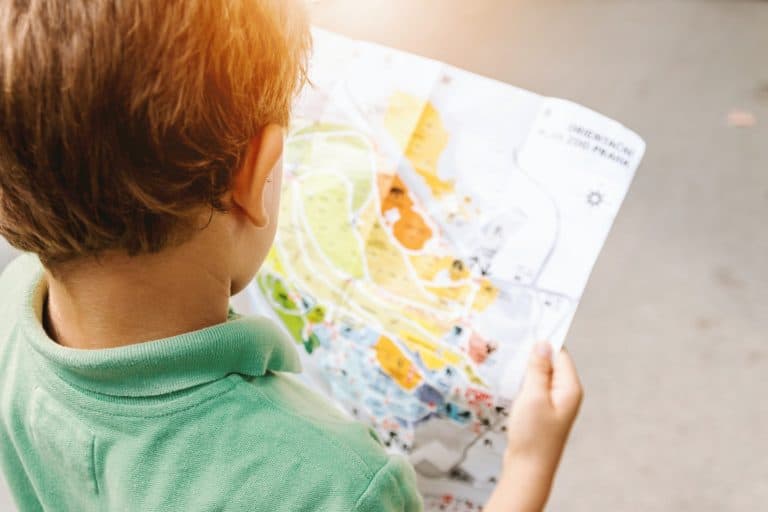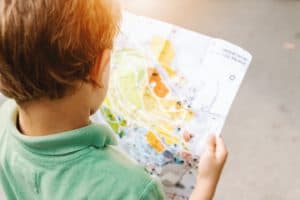 AMERICAN VETERINARY MEDICAL ASSOCIATES
This website has lots of resources for kids in K through 12. In order to download any of these items free you'll need to agree to their Terms and Conditions. Designed for veterinarians to help kids explore that particular career path, there are all sorts of Power Point presentations here.
Grades K-3
Power Point notes, and FAQs. This resource introduces kids to the world of veterinary medicine, and illustrates many of the scenarios a vet will face during their career. Great for kids who have a scientific bent and a love for animals. These presentations, at a more advanced level, are also available through grades 12.
Grades 4–8
Comic book – V-Force – Veterinarians to the Rescue. If you're teaching a number of kids, you can order a package of 25 for $18.00. If it's for only one or two kids, you can download for free (make sure you have plenty of printer ink before downloading). This book is also available in Spanish.
Free teaching guides for Humane Education (K-12), and one entitled Kindness for All (Pre-K to 2nd grade). This site also has videos to go along with some of their lessons, as well as one with do-it-yourself crafts for pets. This is a pretty extensive site.
Pre-K through 2nd grade
Kindness for All – Different Lessons for Animal Needs, Animals Have Feelings, Too, and others. This is a downloadable resource – check the preview to see if this is right for you.
Grades K-12
Numerous lesson plans about animals, and other things. This is also a downloadable resource – be sure to check the preview.
Most of the items here are about wildlife, but there is a lesson plan about Animal Clinics suitable for K-5, which is translatable into veterinary hospitals. Download it here. If you're doing lessons about wild animals, there are plenty of other resources – just search lesson plans.
This adoption center in New Jersey usually sends humane educators out to schools to present programs in person. They, do, however, have a section devoted to instructions on how to make enrichment toys for shelter animals. Sounds like a great activity to involve your kids in helping your local shelter.
This organization was founded to provide lesson plans centering on philanthropy. Although this covers many different issues, there are some free pet-themed lessons here.
Grades 3 – 5
Animal Shelters. This is a unit of four lessons, which includes planning of a service project by the students. These lessons cover many different disciplines, including Language Arts, Math, Social Studies, etc. Since most of us have an animal shelter within a reasonable driving distance, a field trip (prearranged with the shelter) would enhance these classes. Most shelters are more than happy to accommodate homeschoolers or distance learners, either individually, or as a small group.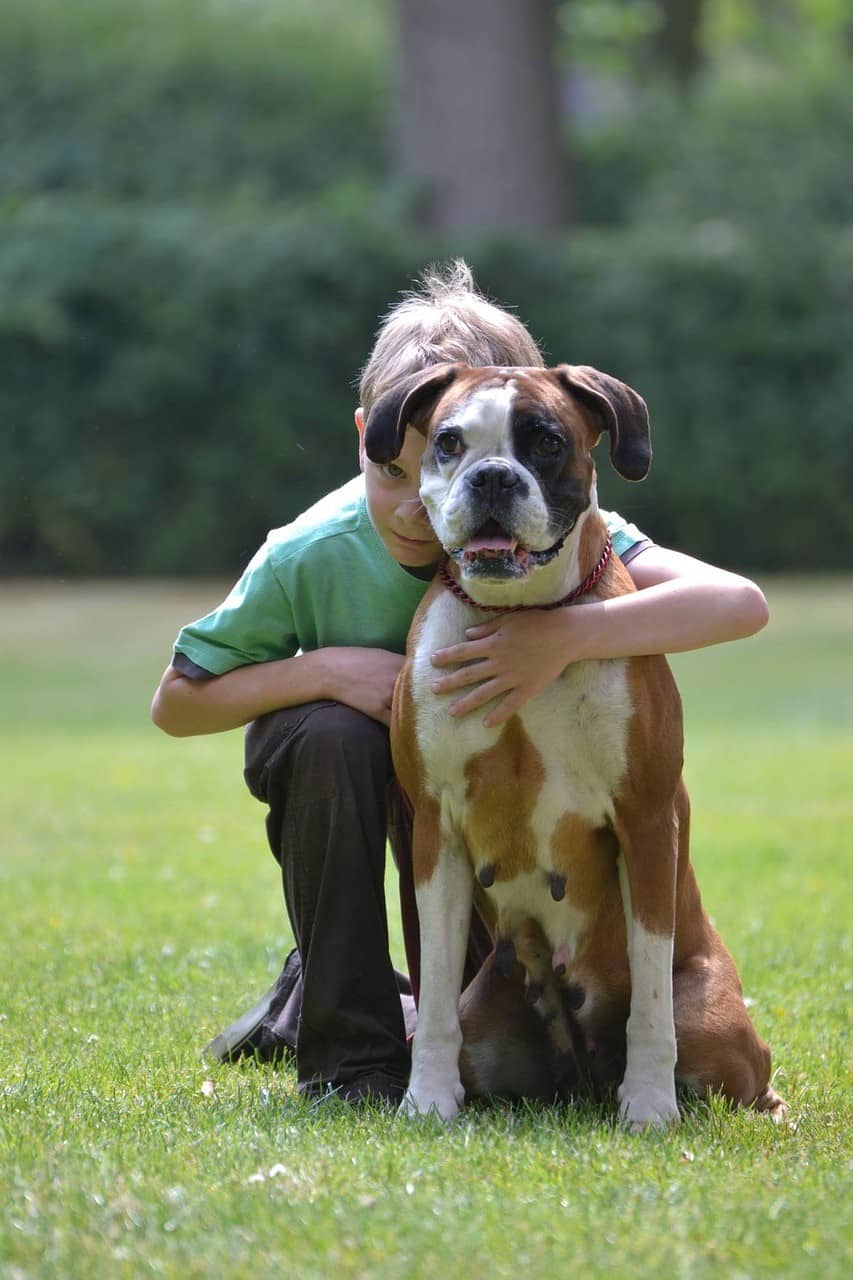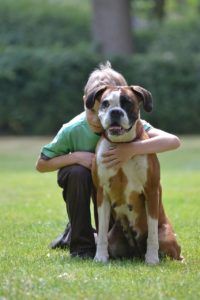 This site has extensive dog-themed lesson plans, all broken down into various disciplines – Math, Language, etc. There are also hands-on activities for Pre-K through 3rd Grade. You could spend several hours here, just browsing. Some of the lessons available:
Short or Tall – Math. Learning the concepts of short and tall, this plan uses the AKC guide to purebred dogs poster. Students choose which dogs are short and which are tall. Great for primary grades. The poster is free for download, and the supplies are minimal.
The Environment and Dog Traits – Science. A study about how environmental factors – diet, exercise, etc. – can affect dogs. There are many free articles and videos linked here to encourage a discussion of what keeps dogs healthy. At the end of this lesson, students will complete a book entitled Healthy Dog Book. Videos and articles are free, supplies are minimal.
Dogs in Poetry – Language Arts. Analyzing poetry about dogs, and writing their own poem. This is a fairly extensive dog-oriented lesson plan, involving discussion of poetry and poetry terms, as well as reading specific poems. Students discuss the poems, and then write their own. This one could easily be adapted for a cat-themed lesson.
Digging Deep into the History of Guide Dogs – Social Studies. This plan includes creating a timeline, learning how guide dogs are trained, discovering which breeds make the best guide dogs, and learning how technology is being used to enhance a guide dog's ability. As with all of these plans, there are plenty of free resources available.
Run by a cat welfare society in the United Kingdom, this site has some cat-themed lesson plans. The British spelling may throw you off, but the site has lots of cool information. Their "Moggy Modules" have separate downloadable worksheets, for ages 5 through 11, and cover Cat Behavior, Cat Health, Cat Diet, among other things. There are plenty of videos to go along with these lessons.
Cat's Protection also has cat welfare, and animal careers lesson plans for ages 14 and up.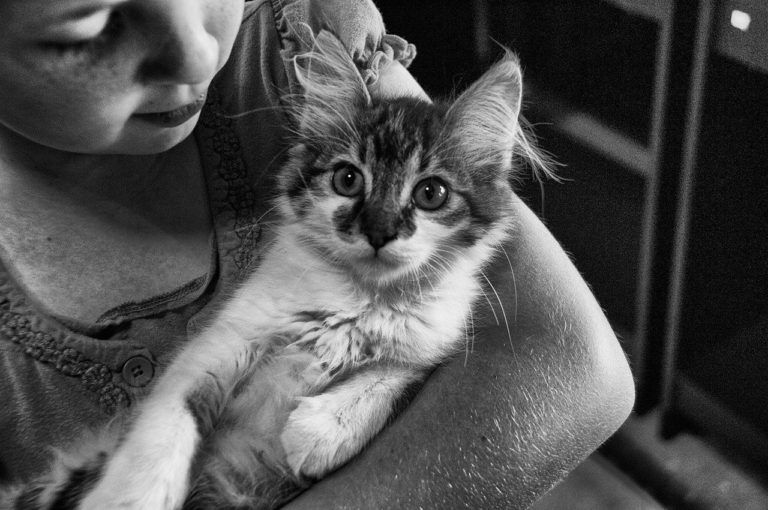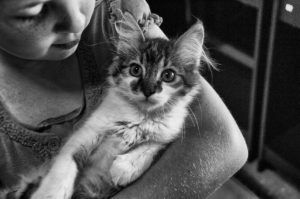 This is just a small sampling of free pet-themed lesson plans available online. There are many others, both free, and paid, to help you and your child on their educational journey. Good luck with your educational endeavors!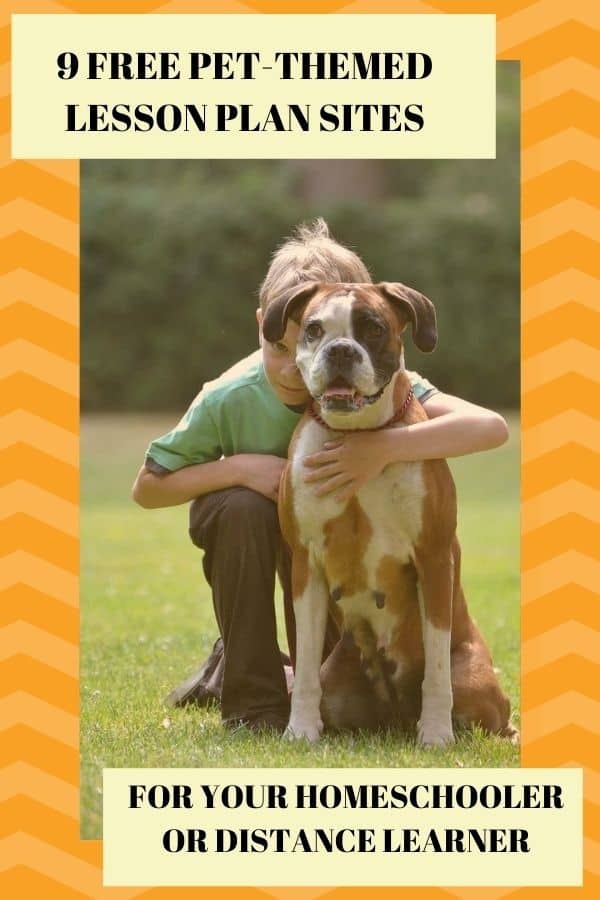 Photo of little girl on laptop by Bermix Studio on Unsplash
Black and white photo of child with cat by Norman Bosworth from Pixabay
Boy with Boxer Image by Michaela Ludwig from Pixabay